One Billion Rising - Cambridge
One Billion Rising - Cambridge
Posted on: 23 February 2013
By: MauriceW
One Billion Rising in Cambridge, MA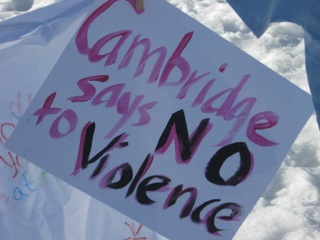 Last week - Valentine's Day to be exact – I, along with millions of other relationship challenged Americans, hurried to get a special 'last minute' gift for my significant other. February 14th has been known as the 'Day of Love', mostly for lovers, filled with heart shaped this and chocolate that, but in one magnificent worldwide act of solidarity, things are about to change, providing a forum to voice concern about an issue for a silent population.
On the Cambridge Rindge and Latin High School campus in front of the new Cambridge Public library there was a rally and flash mob. One Billion Rising (OBR), a nonprofit organization, facilitated a call-to-action to inspire everyday citizens into forming international multi-city flash mobs in a mass global effort to bring worldwide awareness to the issue of violence against women. The culmination of this effort was to be an event held on February 14, 2013, a.k.a. Valentine's Day. By definition, flash mobs are occurrences which are not known to the public in advance. But for the sake of this cause, I was happy to have advance notice.
According to U.S. Census Bureau statistics, there are over seven billion people living on planet Earth. Of this population, roughly half, between 3.4 and 3.5 billion, are women. According to statistics provided by One Billion Rising and the National Sexual Violence Resource Center, one in three women, or one billion women worldwide are the victims of violence in their lifetime; this includes being raped and beaten. OBR's solution to bring attention to this atrocity is an engaging revolution of movement; in this case dance on the one day relationships for humans is globally celebrated and recognized, Valentine's Day.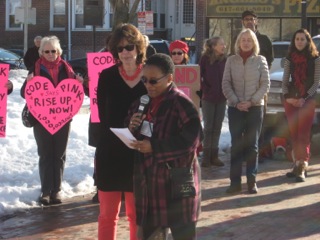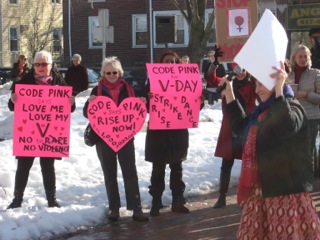 I was immersed in a rallying sea of red and pink clothing, walking, talking and holding signs along the pathway. There were high school students, library goers, and pedestrian passers by. There was a roped clothesline constructed between two trees with pinned t-shirts strung across them. The tees had various powerful handwritten messages, mostly from women with phrases such as "Enough is Enough", "One Love" and "Stop It Now". A public address system was in use, with one of the lead coordinators from Ms. Risa Mednick of Transition House, transitionhouse.org, encouraging and empowering people to share a few impromptu thoughts on how the day's gathering affected their lives.
What these everyday citizens spoke was extremely brave, heartfelt, as well as sincerely emotional. There are no words I can use to describe or illustrate the outpouring other than moving. It appeared as if the feelings revealed were welling up inside the scores of women. A few spoke fighting back tears, some recited poetry and a pair of women wrote a song that incorporated crowd participation.
I was able to catch one of the lead coordinators, Risa Mednick from Transition House, for a brief interview. She briefly describes both the task and mission of One Billion Rising.
Additionally, I caught up with one of the day's speakers, a young woman named Taylor, an activist since the age of 13 years old. It was very moving to hear her describe her ordeal with sexual assault and violence. Below is the interview she granted me.
And in case you were thinking the rally and flash mob was only comprised of women; guess again. Another moving moment, one I am proud to say I took part in, was when Cambridge Police Officer Michael Daniliuk spoke and encouraged men standing in the crowd to join him to recognize the importance of men standing shoulder-to-shoulder with women to speak up and condemn violence. Below is a brief interview in which Office Daniliuk shares his thoughts on why he decided to speak up.
In case you weren't in attendance for the flash mob, below is an opportunity to see for yourself.
If you would like more information on how to join One Billion Strong, click here.